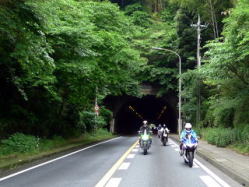 Powers touring has a history of continued for more 30 years with non-interference policy basically. It is means respects each person's riding skills. Because everyone has different pace, so your own pace is good, learning to older riders is also good. It is the best to think about only your safety and ride happily. Of course, we get together at every important point.
Even for the first time, even long time no see, that is no problem at all. Also no important you bought your bike from where. We are just always waiting for your joining!
We want to welcome any motorcycles, but use an expressway, so we may be not able to meet you who is riding within 125cc.

The 2022 touring schedule will determine in consideration of effect of COVID-19.

| | | |
| --- | --- | --- |
| date | day of week | |
| date | day of week | |
| date | day of week | |
| date | day of week | |
| date | day of week | |
| date | day of week | |

Joining is easy! No prior notification required. Let's meet on the day at the meeting place.

Meeting place and time 
Seisyo By-pass Toll road Rest Stop (Kouzu Parking)
at 10 am.

Canceled in case of rain
There is no advance information because of the weather except special cases. When it is cloudy and ambiguous, usually the Powers staff is going to Kouzu, but weather varies from place to place because everyone gathers from the wide area. Please come at your own decision. Even if you were alone in Kouzu, please do not get angry.